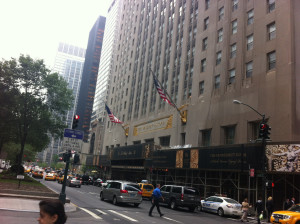 I was in New York city for a few days last week. It was all a bit of a "last minute" trip, but fortunately I had plenty of air miles and Hilton Honors points, so I was able to do the entire trip on a nice low budget.
I'd never been to New York, so I really wanted to see something of the city, though I also knew I was going to be tied up a bit in meetings over the couple of days that I was there.
When the house was broken into a few weeks ago the "charming" characters also took my only wearable coat. Since it's now officially "summer" most shops in Ireland don't stock coats. Of course the weather, as I'm writing this, is still pretty awful, but I guess this proves how out of touch with reality the fashion world is ..
In any case my first stop in New York was a clothes shop. New York has so many to choose from and as I was staying in a central location I only had a short stroll to some of the bigger and better shops including Brooks Brothers on Madison Avenue. I'm now the proud owner of a very nice, if a little expensive, Brooks Brothers trench coat.
So what did I manage to see?
Not as much as I would have liked, but I did get to wander around quite a bit and soak up the city's atmosphere.
The Empire State Building is really impressive, though unfortunately the view from the top wasn't that great when I was there due to fog.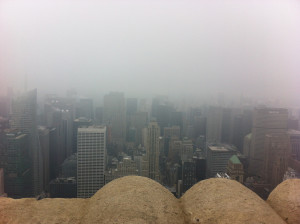 If I make it back again when there isn't fog I'm sure I could get better photos!
I spent a lot of my free time simply walking around the streets. Time Square is insane. I don't think I've ever seen so many advertising billboards in one place!
I watch a lot of films, so seeing so many of the streets and buildings that have acted as a backdrop to many of my favourite films was fun. Remember the big showdown in The Avengers? It was shot in the area where the hotel was!
And of course the hotel itself has featured in so many films over the years ..
Talking of films .. I also took a wander around the Wall Street area before heading back to the airport. It looks like they were filming something there as well, but I've no idea what.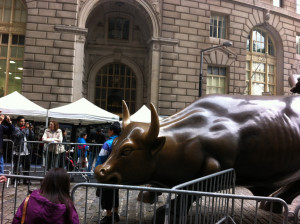 I'd love to have about a week to explore New York at my own pace and get to see some of the iconic sights, such as the Statue of Liberty, but I guess I'll have to wait for that
Related Posts: