Ikea came to Ireland a few months ago and opened their shop on the outskirts of Dublin city.
Lots of people got excited and forgot all about the recession for a few weeks and went "Ikea crazy".
Now Ikea are running adverts on Facebook.
You'd be mistaken for thinking, like I did, that they "got it".
Here's the ad: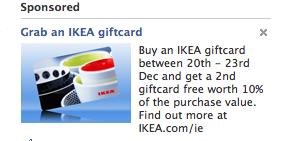 So since it's Christmas and my mother likes Ikea stuff I click on the link.. Which takes me to their Irish site (obviously), but here's what you get: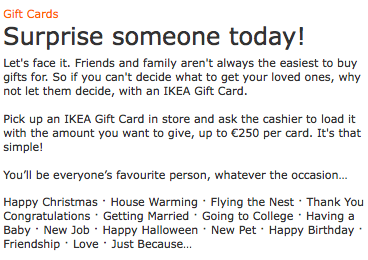 Translation.
If you want to get an Ikea gift card you cannot buy it online. No. You have to physically drive all the way to their shop.
Since they have so many shops in Ireland, this is obviously a very convenient option, and is one that you will obviously want to choose.
So Ikea are spending money on an online advertising campaign which takes you to a "cul de sac" (their non e-commerce enabled website)
And how about their domain usage? While they own ikea.ie you better not type it into your browser, as it won't do anything useful for you. You'd need to type in www.ikea.ie – yes, it's 1995 all over again!
(and Ikea aren't the only highstreet shop that doesn't "get" the web – try getting a Marks and Spencers gift token if you're in Ireland!)