As a child I used to enjoy building, painting and playing with scale models. Airfix, Revell, Matchbox. Those were the brands that made the kits that would provide hours of fun and frustration. I mostly built planes.
I think the first one I ever built was a Tiger Moth. It was a biplane, which was cool, but didn't have any weapons, as it's a trainer. Scale was 1:72, which is one of the more common ones and is also the same size (more or less) as OO scale Hornby trains. (Yes of course I had that as well!)
Airfix still sell a version of that kit, though they seem to have changed the colour schemes they're offering.
After the Tiger Moth I went on to various Spitfires, a couple of tanks and even a few ships. I have a vague memory of a particularly awkward Greek Trireme which was an odd scale.
I'm not sure when I stopped putting together kits, but it was probably around the time I left school and life got in the way. So that's probably about 30 years ago.
Over the years I've looked at scale models in shops and museums and have always wanted to get back into it, but I never did.
Over the past few months I've been thinking more and more about it and decided that I had to do something. So I've been putting together the various bits and pieces I needed to give it a go properly. 30 odd years ago I had a small, but usable, selection of brushes, paints and various other bits of equipment and accessories for assembling models or working on tin soldiers and other things. They're all long gone. And much to my disgust I also discovered that none of the toy shops locally stock any scale models. Nothing. Not a single thing. There are a few shops dotted around the country, but 30 odd years ago you'd have been able to pick up kits in a lot more places. Online, of course, is the only real option.
I picked up a few bits and pieces like a handy selection of tools and a cutting mat. I just spent a fortune on a new dining room table, so the last thing I want to do is slice it with a Stanley knife!
Assembling models can be great fun, but a lot of the skill really is around the painting and weathering afterwards. I'm not sure how well I'll get on with any of this, but I wanted to get a few models that I wanted to assemble.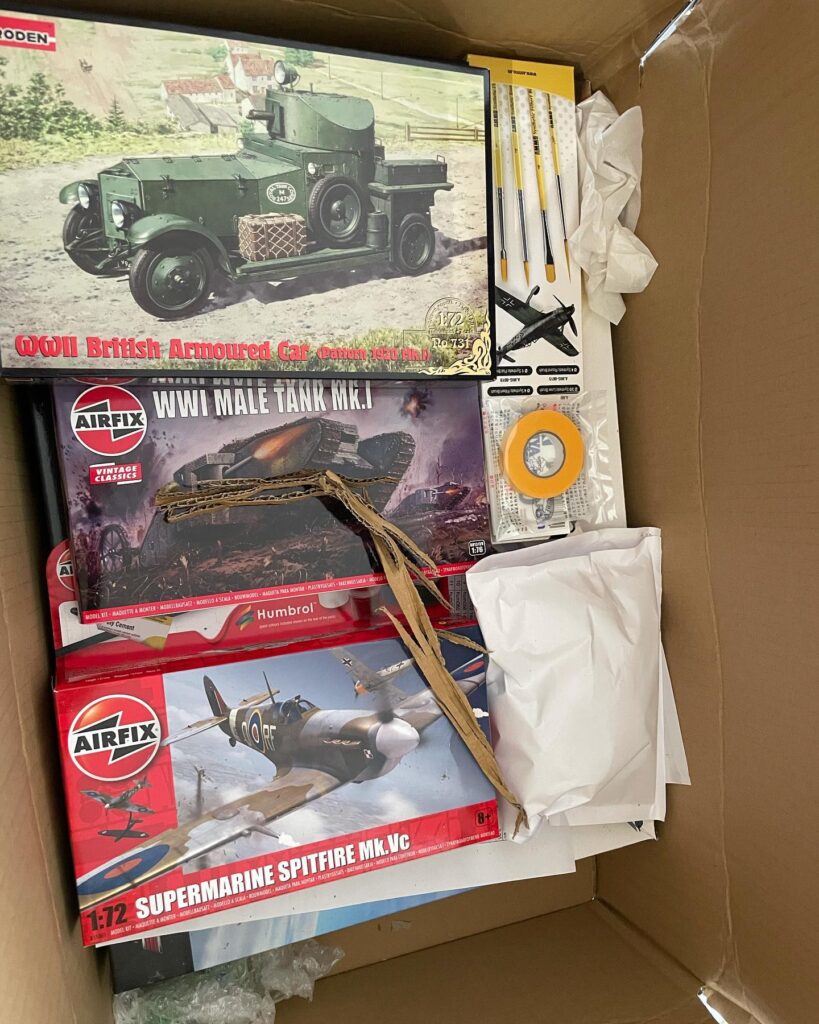 So what did I decide to build first?
I put in an order about 10 days ago via a Polish site for a nice selection of kits. They're all 1:72 scale, aa that means they're big enough that you get a decent level of detail, but small enough that you don't need to build an extension to your house!
Sopwith F.1 Camel – I was always a fan of the Biggles books as a child so I've always wanted to build one of these, as it's the plane the main character flies in many of the stories. The brand is "Roden" who I'd never heard of until recently
F-14 + F/A-18E Top Gun 2 Movie Set – I absolutely loved Top Gun when it first came out and I built an F-14 Tomcat around that time but didn't have the correct markings. Fast forward 30+ years and now you can buy kits with the right markings!
Supermarine Spitfire Mk.Vc – Gift Set – Airfix is the classic scale model maker for many of us. We all grew up with them. Their gift sets supposedly include everything you need to assemble a particular model. As I don't have any paints starting out this kind of setup is very appealing.
Pattern 1920 Mk.I – the armoured car that might look familiar. I probably won't be able to do it in that exact style, but I'll see what happens
WWI Male Tank Mk.I – I don't know why, but I've always found the early tanks fascinating. And I've never made a model of one. 30 odd years ago I think I did a couple of tanks. I have a vague recollection of an American Sherman tank and possibly something else, which was possibly German, but I honestly can't remember. I've seen various examples in museums over the years.
So which one will I do first? I suspect I'll start with the Spitfire. It should be a fairly easy model to put together so I can break myself back in gently. It'll also give me a chance to get to grips with all the various little skills you need when doing models like this.
Now to clear a bit of space on the dining room table!