This year mark's the 100th anniversary of the sinking of the Titanic.
A lot of people died when it sank
A lot of them were Irish.
A lot of them were poor.
A lot of them were en route from Ireland to the "New World" to start over.
So any "celebration" or other ceremony surrounding the Titanic needs to handled very tactfully.
Tayto obviously didn't get that memo: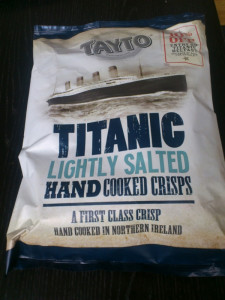 And since people seem to find it hard to believe that *any* company would do something like this I did a bit more research .. and you can actually bid on some of these crisps on eBay:

This post discusses the marketing faux pas some more and adds a few alternate flavours ..
So if you're in marketing do you really want to use the Titanic (or any other disaster) for your marketing?