Steve Jobs has Fake Steve Jobs. Shel Israel has a puppet. Paul Walsh has Walsh Watch.
It seems I've now got the next best thing - my own "wikipedia" page courtesy of Mr Eoin Costello. (He was in the news earlier this week when his hosting company was swallowed up)
I must say I am impressed. I didn't realise that Eoin was such a talented wit and not a bad graphic artist either.
It must have taken a couple of hours to put it all together. So maybe we'll see more of these little works of art now that he isn't distracted by his "booming" business.
Of course if he'd spent more time on his business maybe he would still be a "player" and not another footnote ...
Here's a screenshot of the page in case Mr Costello removes it.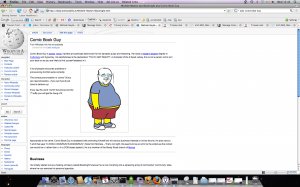 Related Posts: