Since I moved into the house I've had broadband. Up until the other day I had a single router which handled both the connection to the outside world, as well as the wifi for the entire house. The router is a Fritz!Box 7560, which works pretty well over IPv4. The IPv6 side of things is incredibly flaky unfortunately, so I've had to disable it for now, which is rather annoying, as the connection into the house gives me native IPv6.
The router is in my home office which is downstairs at the front of the house. While you could get wifi upstairs from it the signal could be a little "iffy" at times and if I wandered outside the back door of the house I'd lose the wifi signal almost immediately. That was rather annoying, especially when the weather is pleasant and it's tempting to move operations into the garden. I've also disabled mobile data for a lot of apps on my phone, as I really don't like getting hit for crazy roaming charges that I can avoid.
A few days ago the electrician finished a few of the outstanding bits and pieces that needed doing, including adding the ethernet RJ45 sockets where they were needed. I had to get ones that matched the sockets and switches that I got installed throughout the house which was why the entire thing was delayed, but they all fit together nicely, so the delay was worth it: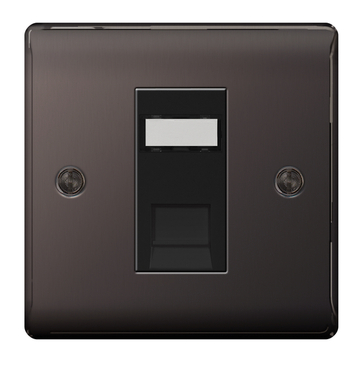 I now have ethernet into the 3 bedrooms upstairs and the attic. Everything is connected back to a Netgear 8 port switch in my office downstairs.
So what about the wifi signal? I thought I might have been able to repurpose my old Fritz!Box router from the last house I lived in. I'm sure it's lying around somewhere, but so far I haven't been able to locate it. I was, however,  able to find an ancient LinkSys, but I'd have needed to do a hardware reset to access it as I have no idea what the login details are. I also noticed that it was heating up quite a bit even after only being plugged in for an hour or two. Not good.
Fortunately I was able to put my hands on a rather old Apple Airport Express.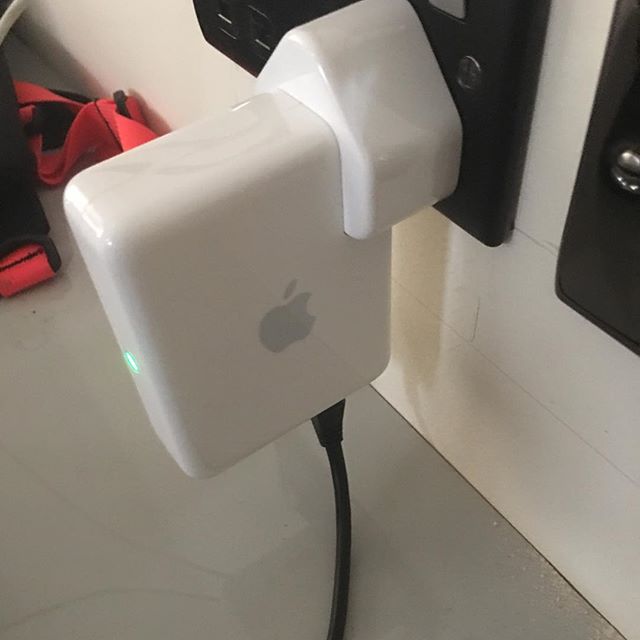 It's one of the earlier models, but it works fine. Configuring it was incredibly easy and I was able to get it up and running in a couple of minutes via my iPad. I've now got it hooked up to the ethernet in my bedroom, so the wifi coverage upstairs has been improved significantly and the coverage in the back garden is now quite good.
So is this a temporary fix, or will it be permanent? Considering my day job it's hardly surprising that I'm looking at beefing up the entire setup a bit. I'm looking at putting a couple of fairly beefy access points in, possibly in the attic, but definitely upstairs. The Ubiquiti range of wireless access points could be complete overkill, but at least I'd have decent wifi! I'm currently looking at the Ubiquiti UniFi UAP 300 Mbps AP/Hotspot, though I can probably get away with my current setup for the moment.
Now back to searching the house for the missing unmanaged switch that I seem to have misplaced..