Unlike last year I don't have any more trips planned before the very end of the year, so I'm "done" for 2019.
Of course I will be doing a few trips around Ireland before the end of the year, though I don't count them towards my overall numbers for the year.
In 2019 I got to spend plenty of "quality time" on planes and in airports and clocked up over 209 thousand kilometres. The map is generated by App in the Air, which works nicely with Tripit Pro.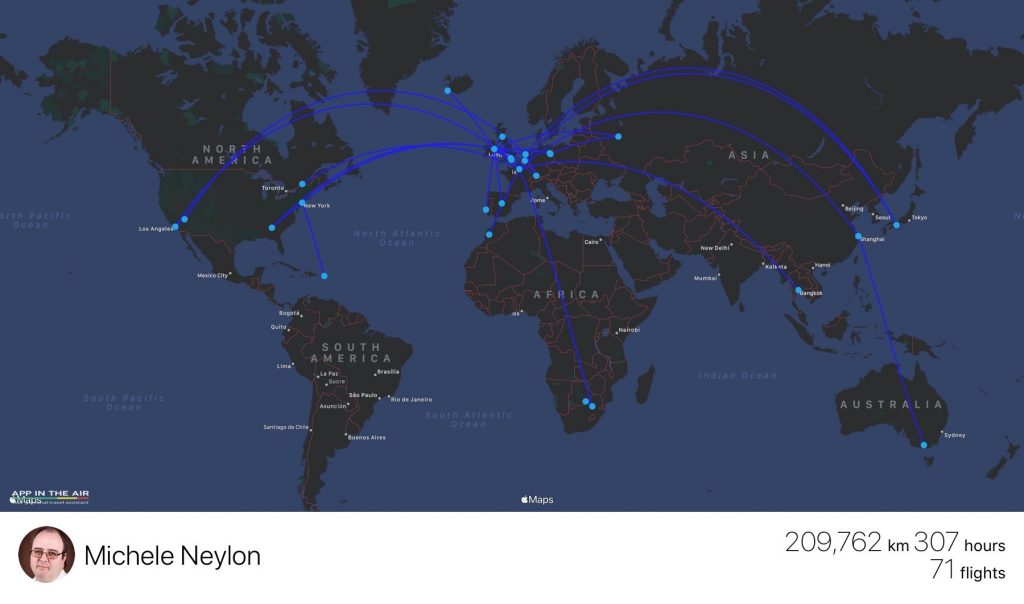 I started off 2019 with my trip back from Australia where I'd spend Christmas with family and then had to pack my bags again to head to Las Vegas for CES. I wouldn't recommend doing that! It was exhausting! Unfortunately it really wasn't avoidable, but for 2020 I won't have to do that at least.
One of the things I love is seeing new places and having new experiences and 2019 was a good year for this.
I got to go to Japan for the first time, which I absolutely loved. I was heading there for work, but added on a few days to see a bit more of the country than I would have done in a windowless conference room.
In May I was at the RIPE meeting in Iceland and was able to spend half a day or so exploring some of the country with friends. It's really beautiful, though not exactly cheap!
I also got to finally visit Moscow, but my stay was way too brief. It's a truly fascinating city with so much to see and, of course, excellent food.
Due to a variety of reasons I got to head back down to South Africa a couple of times this year, which was nice. Sadly this year also saw the passing of Johnny Clegg, but I was lucky enough to be able to attend the memorial in his honour in Joburg. To be able to attend an event such as that was very special. If you have the time the video of the service is worth a watch:
I got to see some new places, plenty of windowless rooms, but got to spend time with some very nice and interesting people throughout the year and had some very interesting experiences both gastronomic and otherwise.