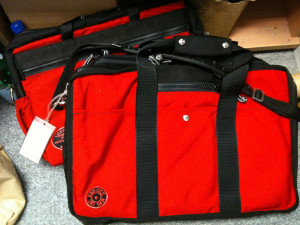 Over the past couple of months I've ended up travelling quite a bit. I've been bouncing around Europe and further afield between various meetings and events.
Most of the time I haven't had issues with my bags. I've gone to the airport, checked in my bag (a Samsonite that I picked up a couple of years ago) and brought my laptop bag with me onboard.
Sure, leaving Colombia was an experience in its own right. (I don't think I've ever been searched so much in my entire life..)
However, most of the time, I've been relatively "lucky" with my bags. I've arrived at my destination and so has my bag.
But when your bag gets separated from you it can be more than a little awkward.
When I was in Montenegro earlier this year my bag didn't make it for about 24 hours and coming back from Colombia my bag got lost along the way. That meant that I had no clean clothes and had to go out and buy some. It's not as much of a problem if it happens on your way home. As long as you keep your house keys in your laptop bag or jacket then the airline will generally send on your bag within about 24 hours. However it does mean that you have to waste up to an hour in the airport filling out forms.
I'm also getting a bit tired of having to pay an extra 15 euro (or more) to check my bag on a lot of the airlines.
So what's the solution?
Carry on only.
The problem with that, however, is finding a bag that can carry enough clothes, chargers, books etc., to last several days. And airlines have got very strict about the dimensions and weight of bags that they allow.
Fortunately there are several companies offering good quality carry on bags that seem to tick all the boxes.
Eagle Creek have several nice ones, including the "Tarmac Flight Bag", which might work for me.
Another one, which was recommended by Kieren, is the Red Oxx Air Boss. It's not a cheap bag, but if it's as good as everyone says then it will pay for itself pretty quickly. Seemingly you can get a small laptop bag to slip into the middle of it as well, so that would mean I'd only have one bag for business trips.
I won't be able to get a bag in time for my trip to Paris next week (assuming the airports are open!), but I'll be able to test it all out early in next year.