I've posted a few times over the past few days about some of my experiences in Japan. There are probably still a couple of short blog posts I could write about other things that struck me while I was there, but for now I thought I'd do an overview of the trip.
As I mentioned a few weeks ago I planned to take this trip to coincide with a work trip. In the past I've added a day or two before or after a work trip to get to see a little of the area or country I'm in, but it was only last year that I properly coupled a work trip with an actual holiday. That time it was for my trip to Peru and I did the work bit before taking the holiday. I don't regret doing it that way around, but there were some disadvantages. After a week of meetings etc., I'm usually really tired, so the first day or so that I was on holiday I'd usually be really tired. Doing it the other way around this time sort of made sense, though I was really struggling with jet lag. Conclusion – I don't think it matters which way round you do it, there's pluses and minuses to both approaches.
As I mentioned I organised the entire thing via Jacada Travel who are headquartered in London. Their staff know their stuff and they did a fantastic job of organising everything for me.
Day 1
After a really early pickup at home I flew from Dublin (DUB) to Paris (CDG) and then on from Paris to Osaka (KIX). It's a long flight clocking in around 12 hours. I did manage to get a few hours sleep so I wasn't completely wiped out when I arrived in Osaka. The time difference between Dublin and Osaka is plus 9 hours, so it was going to be hard anyway.
Once through passport control, which was quick and painless, I collected my bags and headed out where I was met by my guide and driver carrying a nice big sign. No chance of missing her!
I picked up some cash at an ATM in the airport, which I'm really glad I did, as I quickly discovered that a lot of places in Japan don't take cards.
We then headed into Osaka itself for a half day tour. We started at Osaka Castle and the gardens around it.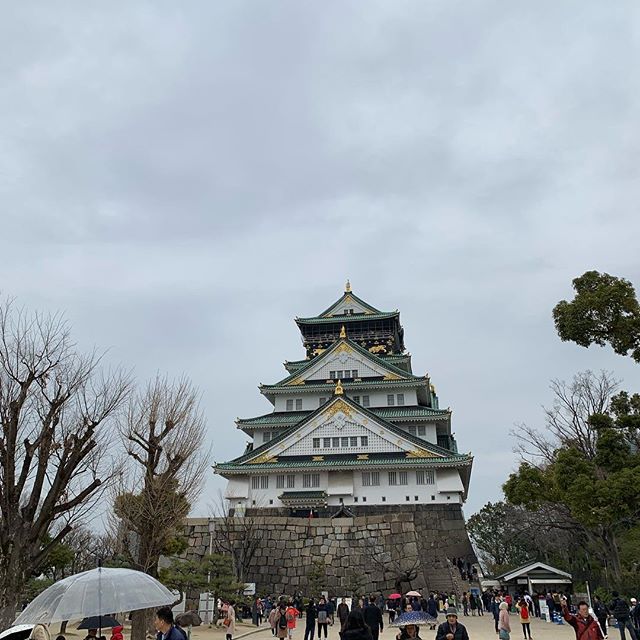 The castle has a very good view of Osaka from the top floor and some of the exhibits in the museum are quite interesting. The weather was a little overcast, but we did manage to wander around the gardens a little and see some of the blossoms.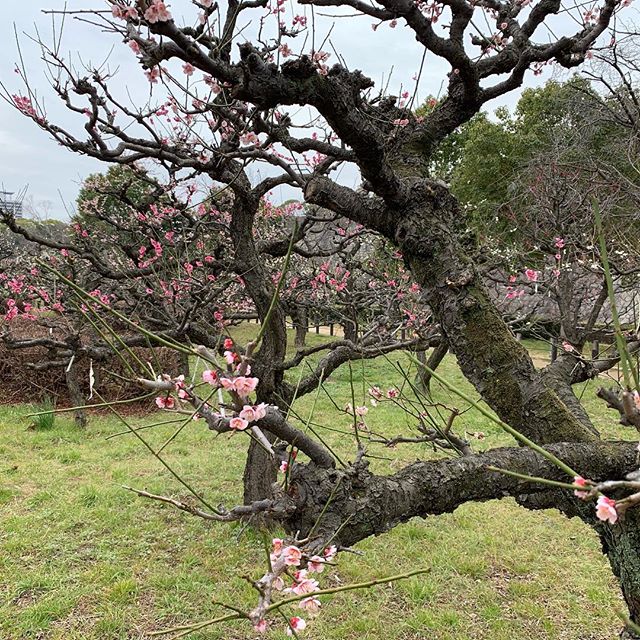 Next up was the city itself. It's a big city with a population of around 2.7 million. In common with most of Japan everything, with a couple of exceptions, was flattened during the Second World War, so everything you see was built after 1945.
We wandered around parts of the centre of Osaka including one of the markets, which was absolutely fascinating. Lunch ended up being in a place in the market where I ate things I didn't recognise and loved it!
We then left Osaka for the drive to Kyoto where I was going to be staying for the next couple of nights. I've no idea how the trip was as I dozed off almost immediately! Jet lag, travel and everything else meant that my body didn't know if I was coming or going!
The travel agency had organised the hotels for me so I was staying in the Hyatt Regency. It's a fantastic property and the staff were absolutely lovely. It's not the most central location in Kyoto, but that worked out fine for me as I was too jet-lagged to really care.
Day 2
After a nice breakfast in the hotel I was met by my guide and driver for a full day tour of Kyoto. There are well over 1000 temples and shrines in Kyoto, so you can easily spend several days there and only scratch the surface.
After spending the morning visiting a couple of fascinating temples and shrines as well as a bamboo forest we adjourned for lunch in a tiny little sushi restaurant.
The afternoon was spent exploring downtown Kyoto including the market area.
Day 3
Another full day visiting Kyoto with my guide and driver.
Lunch was again sushi which I absolutely love. We sat at the counter in a sushi restaurant in downtown Kyoto and it was fascinating to watch the chefs assembling the various sushi and sashimi at breakneck speed. They move really fast and with great precision.
Day 4
I was met by an English speaking driver who escorted me not only to the train station but to the actual train from Kyoto to Hiroshima. Turns out he was a big rugby fan and wanted to talk about how well Ireland was doing as well as the upcoming Rugby World Cup which is being held in Japan.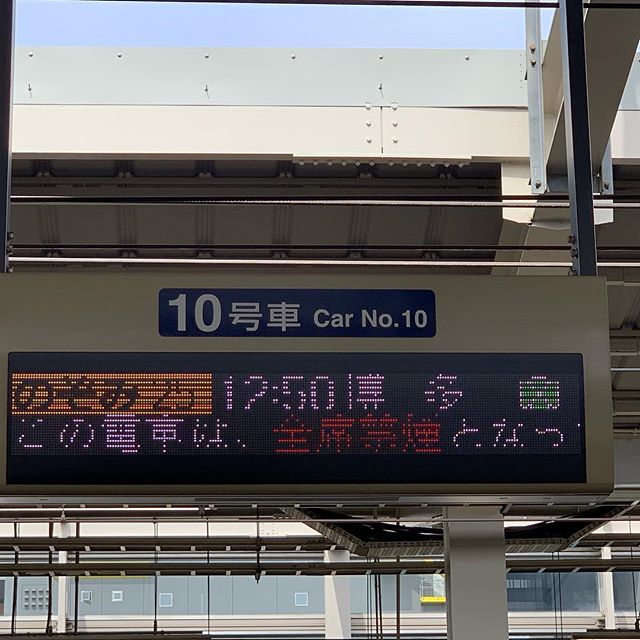 The train from Kyoto to Hiroshima was the Shinkasen bullet train. If you've ever been on the TGV in France or the AVE in Spain then you have a rough idea of what this is like. Except the Japanese one is a couple of notches above.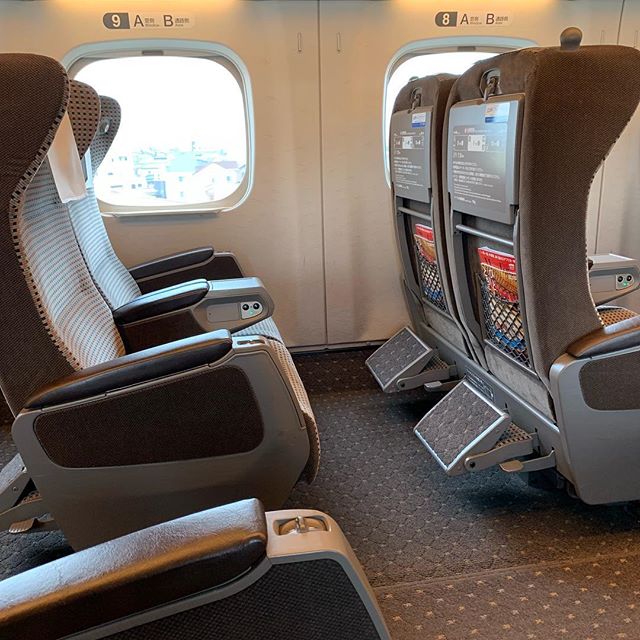 I was in the Green Car, which is their business class and it was incredibly comfortable.
Once I got to Hiroshima I was again met by an English speaking guide to accompany me to the hotel, which was literally a 3 minute walk from the train station. Once I was checked in I had been hoping to explore the city a bit, but unfortunately the weather was quite nasty so I ended up getting a late lunch in one of the many restaurants in the shopping centre which is connected to the train station. There's a really good selection of restaurants and shops in the complex and you're spoilt for choice.
Day 5
I was met with by my guide and driver for a full day excursion. The first half of the day was outside Hiroshima on the island of Miyajima about 25 km from the city and a further 10 minutes by boat.
The island is probably most famous for its floating shrine, which you can first see as you approach it in the ferry from the mainland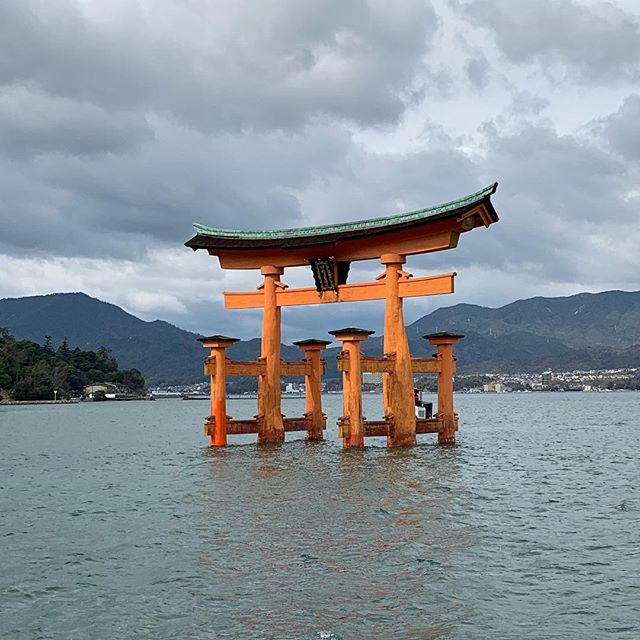 On the way across the bay you can see the oyster beds.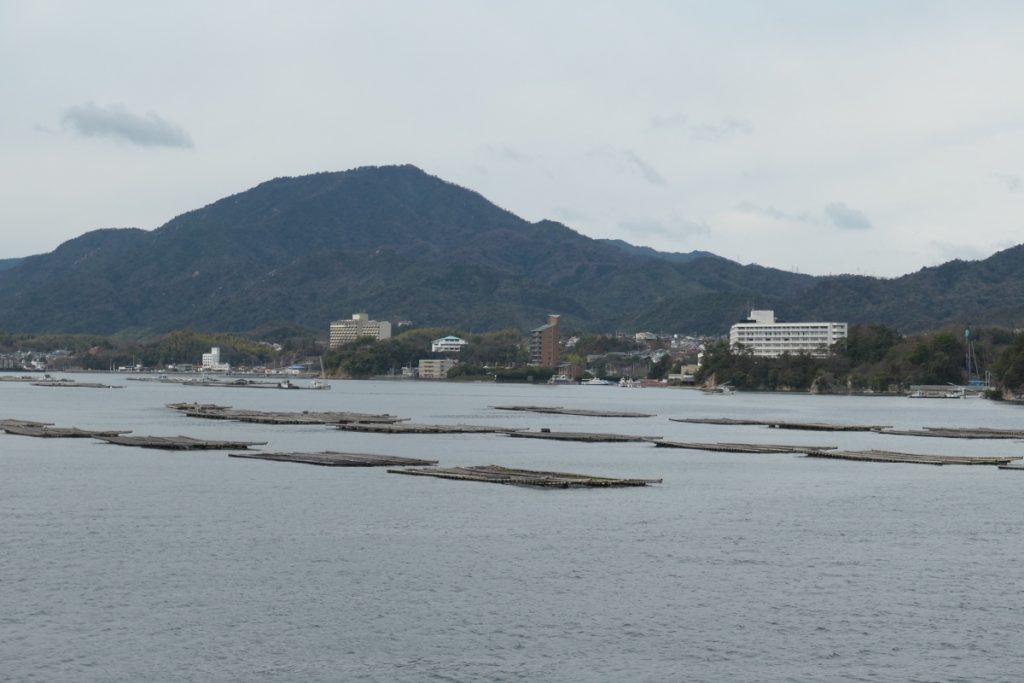 The Hiroshima area takes oysters to a whole new level! They prepare them in a myriad of different ways and although I only got to sample a few different cooking styles they were all delicious. For example for lunch we had an oyster gratin at Miyajima Brewery, which was out of the world.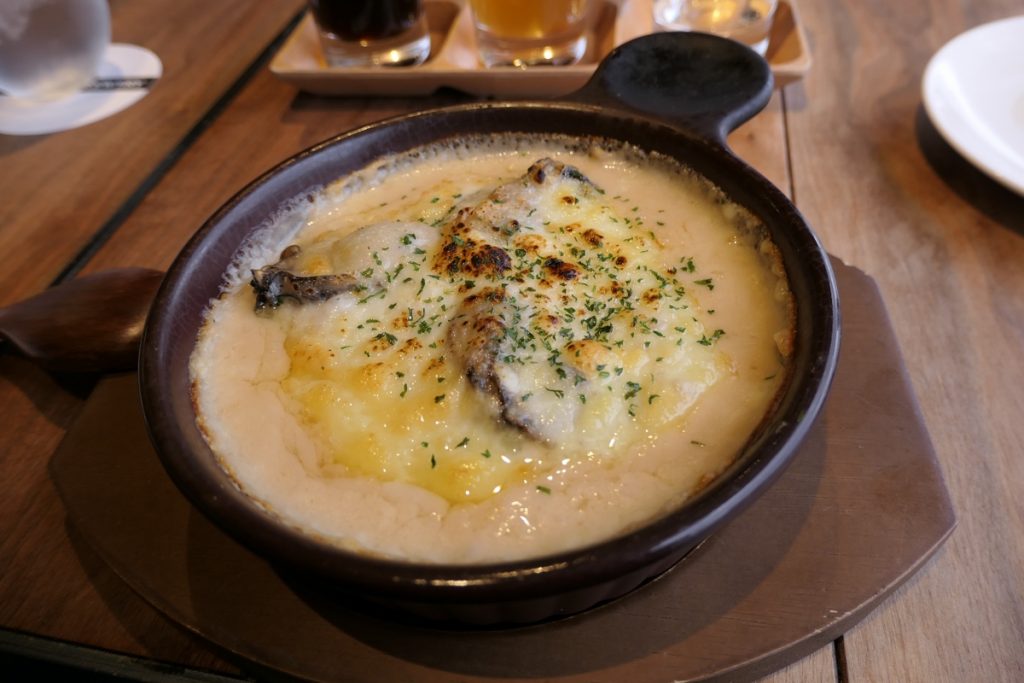 The island of Miyajima is very picturesque and we visited a couple of temples, including one that had an amazing collection of buddhas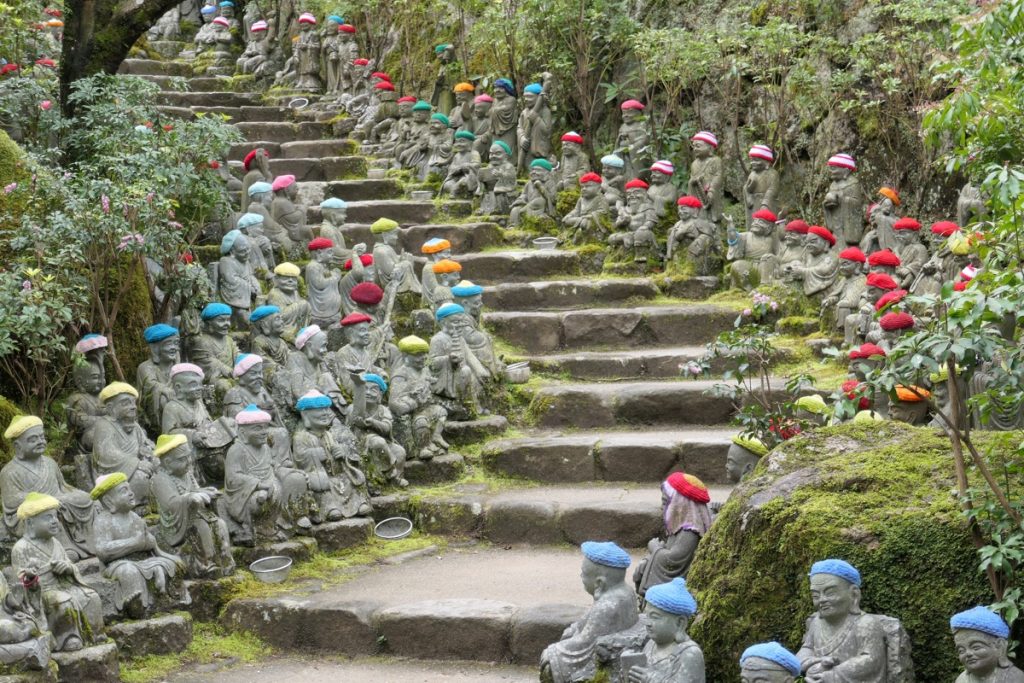 Apart from the sheer number of buddhas what I found fascinating was that most of them had been adorned with wool caps and other things, one even had sunglasses!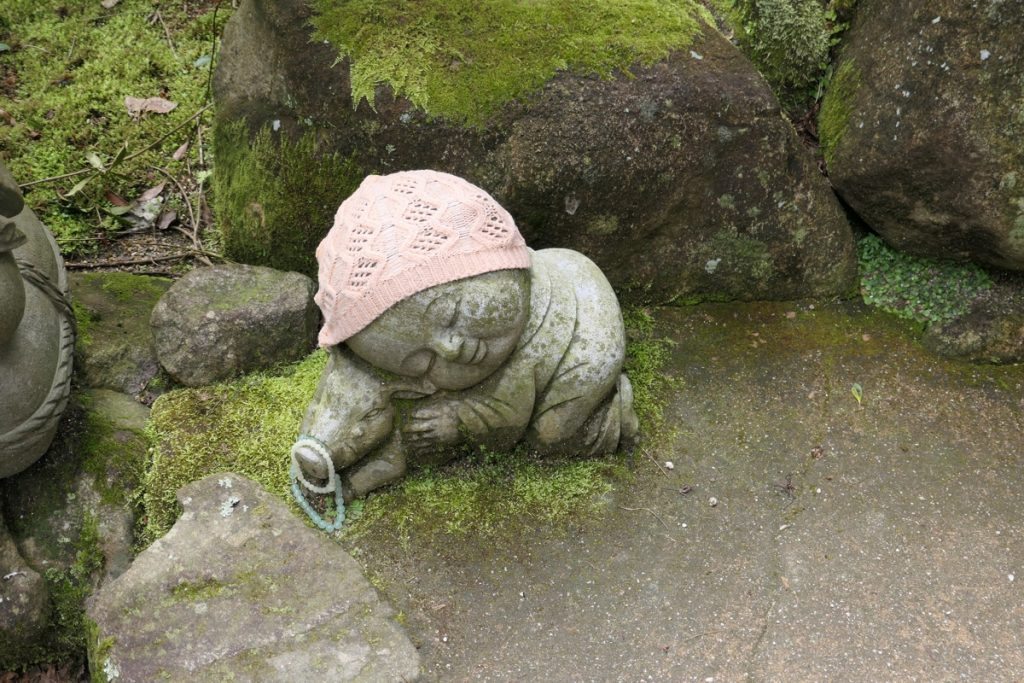 After seeing a couple of temples I think I'd reached maximum temple! So we moved on to a small little shop in the town where I got to taste both some sake as well as a local gin. Like many other countries Japan has got a growing craft gin industry, though it doesn't seem to be at the same level as Ireland yet.
After lunch, which I mentioned above, we headed back to the city to see the A Bomb sites. I've tried to cover that experience in a previous post. The hardest thing about it in some ways is when people ask me "How was Hiroshima?" or if I "enjoyed" it. It's a fairly normal question to ask someone, but in the context of the horror of Hiroshima it's really hard to answer. I guess the simplest answer is: moving or powerful.
My final evening on holiday I grabbed dinner in another one of the restaurants in the complex beside the station, did a bit of shopping and then tried to get myself psyched up for the return to normality.
The final day I was met again by the very helpful assistant who accompanied me back to the station and onto the train for Kobe.
I did get to see a little of Kobe over the following days, though it was mostly restaurants and bars in the evening after spending my day in windowless meeting rooms.
I really enjoyed Japan. In fact I'd go so far as to say it was a revelation. I'd love to go back and the last evening I was in Hiroshima I really regretted not having more free time to explore more of the country and its fascinating culture.