There are a lot of services and tools that you can use with your Twitter account(s). Some of them are incredibly useful, some are fun and some are simply odd.
Buffer App isn't designed to solve all your social media needs, but what it is designed to do, it does well.
What does it do?
Scheduled tweets.
Nothing more, nothing less (though they are meant to be adding support for posts to Facebook pages .. )
Hook up your Twitter account and check your schedule: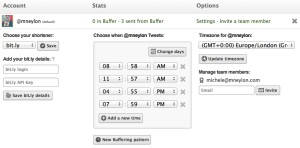 You can tweet in realtime or schedule messages to be sent later according to the suggested schedule (which you can tweak):


The service comes in a number of flavours, with the basic account 100% free.
It's simple and it's useful, so it gets a "thumbs up" from me.
Related articles