Last year I got my greenhouse. It wasn't delivered or installed until May, so I missed a couple of months of growing. Even so I did very well with some plants and shouldn't really complain.
Towards the end of last year's growing season I realised that the way I'd laid out the inside of the greenhouse wasn't going to work for me long term and that I needed to change things around.
I bought a couple of raised beds and the soil to go with them, but some of the stuff in the greenhouse just refused to stop cropping, which is not a bad problem to have at all. So by the time my growing season came to a close the evenings were pretty much gone and so the greenhouse sat there. Abandoned, almost. Until now.
Last year I grew, or at least planted, a very mixed bag of fruit, vegetables and herbs. It was a learning process. Some stuff did really really well, but other things were a waste of time.
Also last year I ran into issues with space and with irrigation.
For 2022's growing season I hope to have resolved some of these problems.
So this is how the greenhouse looks at the beginning of the 2022 growing season: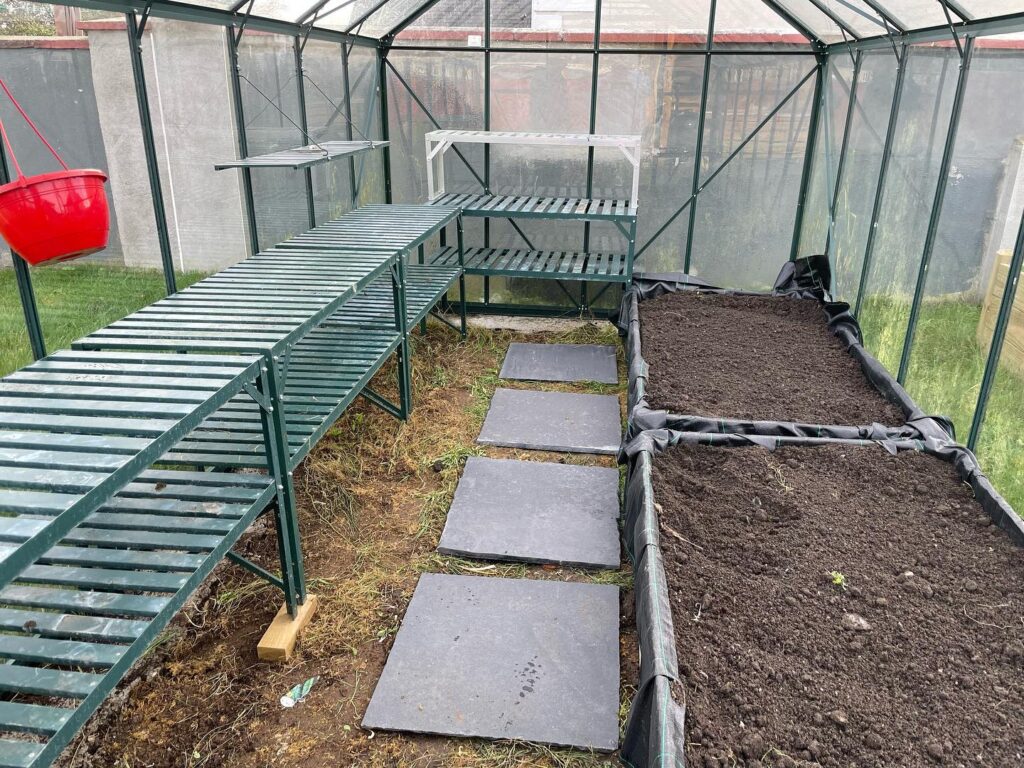 The two raised beds take up most of the length of the greenhouse and run down one side. The shelves run the rest of the way around. The flagstones are some of the leftovers from the outdoor barbecue shelter and are a black limestone.
So the plan is to grow tomatoes, cucumbers and courgettes in the raised beds inside the greenhouse. I also have 2 large and one small raised beds outside, so I need to decide what will go into them.
Also inside the greenhouse will be grown peppers and chillis, as well as a selection of herbs that I will use. Last year I wasn't aggressive enough with pruning so the basil became almost a tree! This year I need to get a bit more aggressive and keep it down so that it retains it's more "bush-like" qualities.
I've also ordered an irrigation system that I'm hoping will help bring some sanity to things. More on that once it's here.
I'm looking forward to being able to grow some of my own food again this season and hopefully things will work out better than last year.