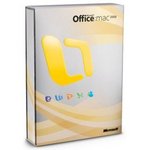 As I've mentioned a couple of times, I recently made the "move" from Windows XP Pro to Mac OSX for my office desktop. I've been using a MacBook Pro laptop for several months.
For my MacBook Pro I didn't envisage doing huge amounts of word processing etc., so I couldn't justify the expense of a Microsoft Office license and opted instead for Neo Office, which is an OSX port of Open Office.
However for my main work desktop I felt that investing in the Mac version of Office was a worthwhile investment.
Before going any further I should explain "how" I use Office (or similar) products.
I am not one of those people who spends their entire day buried in Excel or Power Point. I may produce a certain number of documents every week, but I don't need to do anything fancy with them in terms of formatting. The last time I did anything vaguely complicated with Word was when I was preparing my thesis in university about ten years ago.
On an average day I might receive several Word documents that I need to be able to read, edit and possibly print or distribute to colleagues, clients or suppliers. Since so many of them have made the jump to the latest version of MS Office being able to read their documents even on XP with Office 2003 was getting difficult. Of course this could be solved by installing a number of tools to enable the reading / conversion of the newer formats.
I am a heavy email user. In fact most of our staff would be classed as heavy email users, with Paul and I being the heaviest users in the office. When I say "heavy" I refer to two things primarily:
the volume of mail we receive
the number of filters and rules we use to organise the huge number of emails
On an average day I could easily receive 2 to 3 thousand emails on my main work account. Fortunately Microsoft Exchange 2007 does a lot of the "heavy lifting" so when I connect in remotely I only have to deal with the more important ones. I can review the less important folders in my own time.
When I'm in the office, however, I need to be able to access ALL of my mail easily and quickly.
Entourage, which is the Mac OSX version of Outlook is a nice client. It suffers from the same issues that its Windows counterpart, in that it eats RAM and CPU cycles, but it works very well overall. The integration with Exchange is pretty seamless, though there are a couple of minor niggles like the cert warning I get every day as our server's SSL cert doesn't match its hostname. It's not a major issue and I simply dismiss the warning.
It handles most of the common tasks without issue.
The only thing I'd like to see is tighter integration with OSX, as Mail App, which is the Apple default mail client, can now do all sorts of funky things with the contents of emails.
The other issue I've encountered is really annoying.
It happened again today, which sort of spurred me on to writing this 🙂
For some reason MS Office maintains some sort of database related to Entourage and other MS applications on your Mac. This isn't explained and I can't find any clear documentation on it. (The Microsoft Office for Mac site is woefully lacking in documentation anyway, so it's not much of a resource to begin with)
The only reason I mention it at all is that mine gets corrupted. Since I can't find any clear documentation on it I'm completely at the mercy of the unhelpful error messages and the rather useless repair tools that seem to go round in circles telling me what I already know - "Houston we have a problem"
"Would you like us to fix it?"
"Yes please"
"Ok. Mind if we check it?"
"Work away"
"It's broken"
"I know"
"Mind if we check it?"
Huh? Didn't it already tell me that? So round and round it goes until eventually I scream in despair and our poor overworked Windows admin ends up recreating the entire thing from scratch ....
Excel seems to work pretty much as advertised. I haven't had any reason to do anything fancy with it so I can't comment on advanced functionality.
Powerpoint also seems to work as advertised. Again, like with Excel, I haven't had any reason to do anything complex with it yet and I probably won't. Anyone who has had the misfortune to attend a talk I've given can contest to my lack of Powepoint skills 🙂
Word, however, simply fails to deliver.
The one "advanced" function in Word that I need to use on a semi-regular basis is the letter wizard. For some demented reason the OSX implementation of this relatively basic functionality just fails to deliver.
On Windows you simply run the wizard once and fill in your contact details etc., The next time you need to produce a letter of some kind you can choose from your previously entered
data. The OSX version happily "forgets" that you've ever used it.
It also doesn't "like" the idea of the user tweaking the letter elements after you start editing, so if you want to change the layout style you will suffer.
Not only does it not "like" the idea of a change it simply "forgets" that you ever used in the first place and happily inserts all the data in duplicate.
What that means is that you will literally end up with two "letters" in the one document. I won't pretend to understand the inner workings of Office, but I would have thought that this was a fairly commonly used function.
I am not an Office "power user". The only reason I got Office was to make certain things that bit "easier" and unfortunately that doesn't seem to be happening.
While all the native OSX applications seem to work without causing me issues or heartache, making the transition from Windows to Mac quite painless, the one bit of Microsoft technology that I decided to keep is causing me pain.
I am seriously tempted to dump Microsoft's Office for Mac in favour of Neo Office and replace Entourage with Mail App (especially if the stupid database problem keeps happening).
I don't want to dump a product that I have paid for however. So I'm left in a dilemma.
Related Posts: