This weekend is a long weekend here in Ireland. It's our national holiday - St Patrick's Day.
Now I could ramble on about the history or the culture, but let's face it that's not what I'm interested in writing about.
I'll keep it very very simple.
It's St. Patrick. Patrick or Padraig. So it's either St. Patrick's Day or Paddy's Day. Either option works.
It is not and has never been "Patty" or "St Patty". ("Patty" is actually acceptable as an abbreviation of Patricia, but the patron saint of Ireland is a man, so unless you want to go back in time and give him a sex change or try to do it posthumously ... .. )
I've no idea why so many Americans can't get this right.
Do you see any reference to "Patty"? Didn't think so.
Someone else even went to the trouble of setting up a website to explain this all in plain and simple terms.
Unfortunately a lot of big brands still haven't got the message - I'm looking at you Disney / Pixar: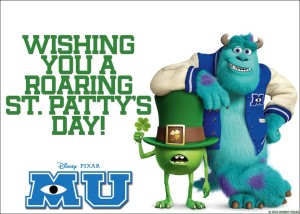 Related Posts: