Continuing the saga of getting my new house ready …
The last couple of days have been fun. I mean that. Things are finally coming together so that I'll be able to move into the new house very soon.
This morning the electrician dropped over and as of this afternoon I now have functioning lights in the kitchen. They're LEDs and they work, unlike what was there up until now. This makes me incredibly happy, especially since at this time of the year it gets dark quite early and I'd been going back and forth to the house mostly in darkness or semi-darkness.
As I had mentioned, the switches and sockets that were in the house are that cheap mock brass that ages badly: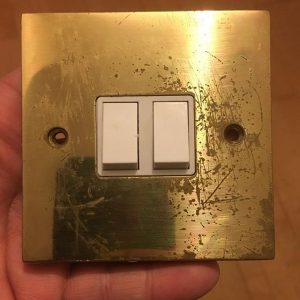 I don't think "ugly" truly captures how horrible they are. Thankfully within the next couple of weeks they'll all be replaced with much nicer and overall "cleaner" ones like this: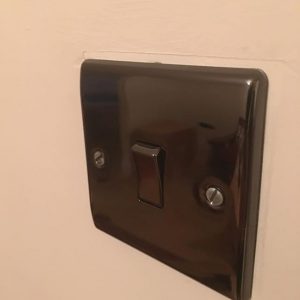 (You'll have to excuse the angle of the shot, but they reflect everything.)
And the sockets are all being swapped out to for these ones which have two USB sockets. Do I need to have them everywhere? Possibly not, but I thought it'd be simpler and easier just to put in the USB ones everywhere rather than trying to pick and choose.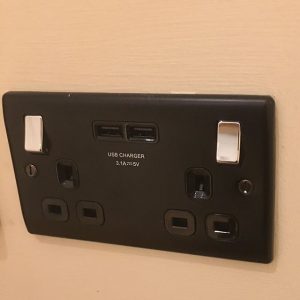 I keep finding sockets hidden behind furniture so I had to order more of them from The Electrical Counter, where I'd bought the others previously.
But today's big news was that the house now has broadband!
I wasn't going to move into it until I a couple of things were in place and having a 'net connection was one of the key things for me. A lot of what I do involves having a usable internet connection, so while I could probably have made do by tethering to my phone I'd have been fairly miserable. I work from home in the morning and often in the evening and at weekends, plus I've come to rely more on streaming services for everything from my background music to my daily dose of current affairs. I'm not sure if I'll be dumping my Sky subscription when I move or not, but if I keep it it'll only be for the access to some of the news channels, as I can't get them easily online.
So which broadband did I end up with? As the house is in Carlow town I knew that I'd have plenty of options for broadband, but I am delighted to be the first VDSL2 customer on our ISP service 🙂 Over wifi I'm currently getting around 80 megs down and close to 20 up, which is more than acceptable. The hardware in the house is a Fritz!Box 7560, so it'll have similar features to what I'm used to.
The other "big" thing is in relation to gas. The house has "town gas" and both the heating and the hob use it, while the ovens and everything else are electric. Before moving in to the house I needed to get the gas boiler serviced, as it was flagged in the engineer's report as being an issue. I'm glad I did, as it turns out that the boiler and various other parts of the heating system are in need of some serious maintenance and possible replacement. I'll know for sure what exactly needs to be done early next week.
While the kitchen looks nice, the 4 burner gas hob wasn't working properly at all. As someone who enjoys cooking, but hates cleaning switching to a glass topped hob appeals to me. So I've bought a Siemens 5 burner gas hob: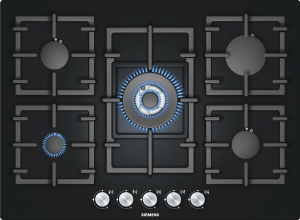 It's got 1 high speed, 2 standard, 1 economy and 1 wok burner, which should be more than enough to keep me happy.
I'm still trying to find sofas that I like, though I'm also very tempted to get some completely over the top home cinema seating instead, though the cost would be prohibitive 🙁
The blinds and curtains are also on my "to dump" list. Luckily this is the right time of the year to be doing all of this, as most of the shops are running sales of some kind, so I can probably pick up a few bargains.