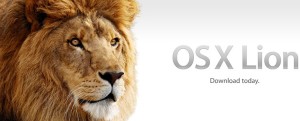 I wrote the other day about my experiences upgrading two iMacs to run Apple's latest release - OSX Lion. At the time I hadn't had any major issues and was still in a "honeymoon period" with the new distro.
Unfortunately that all changed the next morning.
While the main machine at home, which I'm currently using, appears to not have any issues with the upgrade, it's a totally different story with my work desktop.
On arriving in the office on Friday morning I could not login. At first I thought that I'd simply mistyped my password. But I hadn't.
My login was refused.
After spending several minutes trying every possible password combination (very slowly and carefully) I thought I'd do a bit of online research to see if anyone else had been hit with this issue.
My suspicions were confirmed - there are multiple posts in various forums of other users having the same issue. Post-upgrade they couldn't login to their Macs either. There also seem to be several other issues related to logging in to other services post-upgrade which suggests that there may be an underlying issue related to how users and permissions were upgraded(?).
There are several potential fixes offered on the Mac user forums, though none of them have worked for me so far. I did, however, find another possible solution on the Thursby software site which suggests that AdmitMac might be causing my issue, though I won't be able to confirm this until tomorrow morning (fingers crossed!)
In any case, even if the issue is not directly related to AdmitMac in my case, that so many other users have had similar issues is quite worrying.
At the moment I have no plans to upgrade my other machines until I am 100% sure that Apple has resolved this specific issue, because I really don't need any more expensive paperweights!
So for now I am going to be working on my MacBook Pro ..
UPDATE - I followed the instructions on the Thursby site and it made no difference.
UPDATE 2: I did a reinstall (which took a really long time). I was able to login as one of my "new" users and tried to reset the password for the original user. Logged out in order to log back in and I now can't login at all again 🙁
So what are my options at this stage?
I'm beginning to think that a completely fresh install might be the only sane option ie. wipe the hard drive completely and start from scratch
UPDATE 3 - I wiped the hard drive and did a completely fresh install of Lion. I've no idea how useful the Time Machine backups are going to be, but I'll be looking at them tomorrow if I can. Due to the way I work most of the really important stuff isn't stored on the local hard drive anyway, so it's more of an inconvenience than a "disaster". On the plus side it means that it's a nice fresh, clutter free, install 🙂
Related articles
Related Posts: