2020. The year most of us would love to forget, skip, erase or somehow purge from our lives. Writing about travel in 2020 seems odd. Almost futile. This time last year I was reflecting on a year of bouncing around the globe. I was remembering new experiences. I had fond memories of some lovely dinners with a wide variety of people. Some more special to me than others.
So 2020..
The year started off just fine. As I've done for the last few years I headed over to Las Vegas for CES. I got a good deal on a hotel "off strip" and I had a couple of very nice dinners in various places around the city. I also got to spend time in Los Angeles for both business and pleasure later in the month – I've had my birthday in LA for the last few years which has always been nice.
Sometime in late January or possibly early February things started to change. People started getting worried about the Corona virus though I doubt anyone could have predicted how much things would change or how quickly.
My last trip was to Mexico at the beginning of March. At the time I still had flights booked for later in the year, though already several event organisers had started talking about postponing or cancelling events.
I didn't realise at the time that my Mexico was going to be my last trip outside Ireland of 2020.
So my 2020 travel numbers are quite a bit lower than previous years: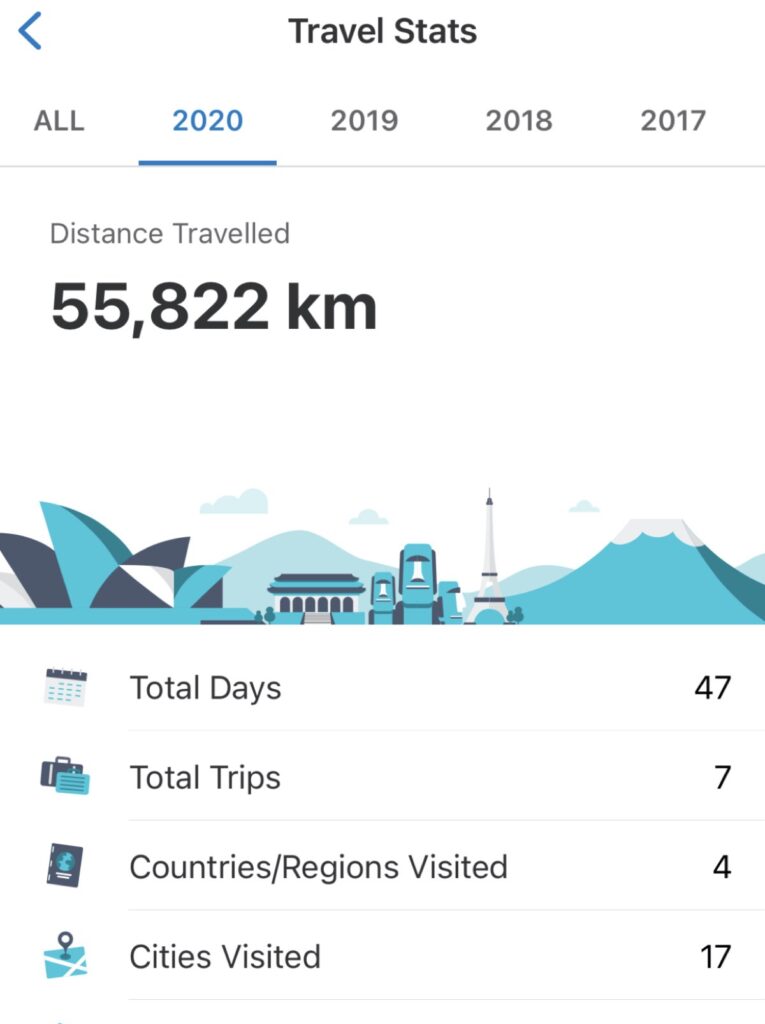 Yeah I did still manage to clock up over 50 thousand kilometres in the first 3 months of the year which is a bit nutty! But that wasn't that hard with two trips from Ireland to the US west coast in January alone.
So what about 2021?
So far I have zero flights booked.
I have tickets for a concert in Paris in 2022, but no firm plans for anything outside Ireland for 2021.
Do I want to travel? I'm honestly not sure. To say that I have mixed feelings would be a massive understatement. I miss travel. I miss seeing friends. I miss a lot of things. But travel at the moment is pretty bleak and even if I was to travel somewhere what is even open?
For now I'm going to just work on the basis that my travel will be domestic only.