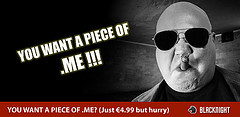 Yes I'll admit it. I am more than a little passionate about domain names.
So when I had the opportunity to acquire the domain michele.me I leaped at it.
(If you look at whois you'll see it's still in transit)
So now I've updated this site to use michele.me instead of mneylon.me or mneylon.com, though the other domains all point here as well.
Why michele.me?
Because .me is a cool domain extension and Michele is my first name!
Want a .me domain name? Check out our latest offers here (hint - they're really good value!)
Related Posts: