I've spent the last couple of days in Co Clare with most of my family (which is why I haven't been answering emails as quickly as normal).
We seem to come together most often these days for weddings and funerals.
My grandfather, Joseph (Joe) Neylon, passed away last Tuesday so we were there to say our farewells.
My grandfather lived a very full life and passed away at the age of 94. He'd even written his memoirs!
I could probably write a lot more about the important role he played in my life, but I can't at the moment and I may never be able to.
He'll be missed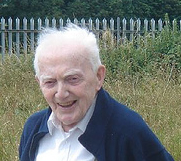 Related Posts: