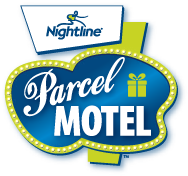 One of the frustrations when you're shopping online from Ireland some of the time is delivery. Either the costs are sky high, or the vendors simply won't ship to Ireland.
Parcel Motel takes away some of that pain, as they can give you a legitimate delivery address in Belfast, which usually qualifies for UK priced shipping, which is often free.
Last week was the first time using the service and my first package arrived early this morning.
Picking up the package was easy. The lockers are accessible 24/7 and you simply key in your phone number and the pin they've sent you by email and SMS. Once you've done that a door "magically" opens and you pick up your delivery.
It's also very reasonably priced, with a standard package costing €3.50. They'll charge you more for if the package is oversized or weighs more than 10kg, but it still works out to be cheaper and more convenient than either not being able to buy the item or having to pay some of the crazy delivery fees that some sites charge.