I fly with Air France and other airlines that are part of the SkyTeam alliance. I like Air France, but sometimes they screwup. And when they do and you're on the receiving end of the screwup it can be really really frustrating.
However they have been really doing a fantastic job with handling customer service issues via Twitter.
A few weeks ago I realised that Air France had updated my flights for a trip I was taking, but they hadn't informed me. I found out when I was checking the seat assignments and possible upgrades etc., in advance of the trip. Several days later they emailed me to inform me of the change, but the email communication wasn't exactly clear. Long story short, I needed to get one of the flight changes they'd made updated, or I'd have been stuck sitting in an airport in the middle of the US for several hours when I really didn't need to be - there was an earlier connection that I could get ..
I tried to sort this out via their phone service, and they were very obliging. However I wasn't happy about how they'd handled the communications. From my perspective I thought the airline should tell me about a flight change, not the other way around ..
Their social media team reached out to me and we had an exchange via Twitter which they followed up via a phone call. And I was delighted when they offered me a carrot to appease me.
So far so good.
Now for a number of reasons I end up being invited to various events. Unfortunately when I try to get organised early this seems to work against me and I sometimes have to rebook my trips.
This week I ended up rebooking an entire trip which meant that I needed to cancel and ask for a refund for a flight I'd booked with Air France. The fare conditions did allow me to cancel the flight and get a refund, but I knew I was going to lose part of the fare. While I hate losing money I didn't really have an issue with the "penalty'". I was changing the flight due to problems on my end. It wasn't the airline's fault.
However when I tried to ring the airline to cancel the flight and request the refund I hit a brick wall. Their phone lines were constantly busy and I couldn't get through.
So I tweeted to Air France. I was expecting them to reply with a telephone number I could ring. But this is what happened instead:
@mneylon Hello Michele, If you like we can assist you with that. Please can you provide your booking reference via DM. Thanks!

— Air France (@airfrance) January 31, 2014
Handy! So I DMed them the details they needed to find the reservation.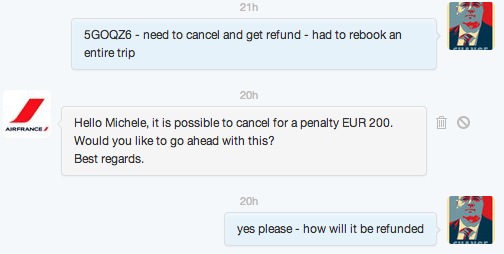 But then they followed up with me and I was blown away:


Wow! This made my day. So not only did they manage to sort out my cancellation and refund without forcing me to deal with being put on hold etc,, on the phone, but they went the extra mile and waived the penalty.
They didn't need to do this. There was no obligation for them to do it and if I'd paid the penalty I wouldn't have been upset with them - sure I'd have been upset, but the cancellation was my problem, not theirs.
They not only provided excellent customer service by resolving my issues but went further than I was expecting and both surprised and delighted me.
And this explains, in part, why I try to fly Air France whenever I can.