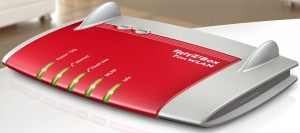 Last week, while I was up in Dublin, UPC came along and hooked me up to their fibre. Yesterday I got the fixed IP details and with Paul's assistance switched the UPC box over to bridging mode, reconfigured my Fritzbox and moved my home connection into the fast lane.
It's nice
With the standard UPC wireless access point I could get a respectable 35 megs, but once I switched everything over to the Fritzbox I started getting much closer to the 75 megs advertised - over wifi.
IPv6 is working nicely as are all the other features that I had on the Fritzbox previously.
For the moment I'm using Google's public DNS servers on the Fritzbox, though I'm overriding them on certain devices. I probably won't stick to the Google DNS once I've had a chance to explore options. Since the Fritzbox supports both IPv4 and IPv6 resolvers I'll need to do a small bit of research in that area.
The one thing I don't understand is why UPC is limiting my upload speed to 5 megs. Yes that is way faster than what I had previously, but I don't understand why they're setting such a low limit. Surely it isn't a capacity issue? If the line can give me 75 meg in one direction, why can't it give me the same in the other?