Earlier this week I discovered that some of the house's plumbing needed to be replaced. Remember the big freeze back in 2010? It looks like some of the heating pipes burst and were patched instead of being replaced. With the newer heating systems the system is under higher pressure, so a patchwork of small sections of pipe won't cut it.
Since the floors upstairs were taken up in order to replace all the piping it seemed like a good time to run some ethernet cables. So this is how things are progressing: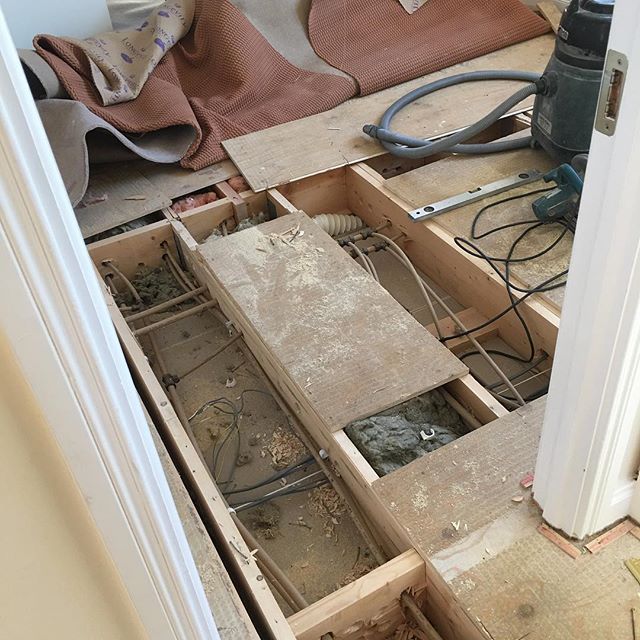 You can see in the photo above that there are quite a few joins in those pipes and there's no insulation. It was the same under most of the sections where the original heating pipes were running.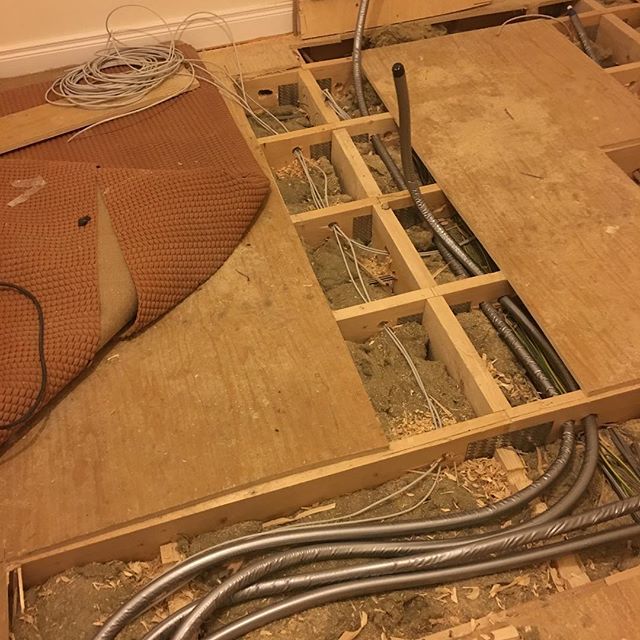 The second photo (above) shows the new pipes. There's over 100 metres of new piping under there, as each radiator needs its own pipe.
You can also see that the ethernet cables have been run. There will be an ethernet outlet in each of the three upstairs bedrooms, as well as one in the attic. I've no idea what I'll use the one in the attic for, but it made sense to put it in while I was getting the other cables put in.
Downstairs is where the VDSL connection comes into the house. Of course there is wifi throughout the house, but I'll also have at least one ethernet outlet in the sitting room. While devices like the Apple TV are wireless, connecting them to ethernet directly can help reduce buffering.
With so many cables and an ever growing number of devices I'll have to get a couple of small 8 port gigabit switches to manage all the connections. Netgear make a range of affordable 5 and 8 port unmanaged switches that are pretty damn cheap. Amazon, for example, are offering the GS208 for about €17.
I plan on using the former downstairs bedroom as my home office / "den". So having a pile of network equipment in one corner of that room makes sense. In the "old house" the cables and related equipment grew organically over the course of more than a decade, so there's now a big mess of cables that I'd be almost afraid to touch. With the new house I'm starting from scratch, so hopefully I'll be able to keep it much neater.
The desk and chair I've been using for the last few years weren't that nice, so I'm upgrading.
Buying brand new Herman Miller chairs is expensive, but there are several companies that specialise in refurbishing them and selling them on at a fraction of the retail price. So instead of paying more €1000 for a single chair, you can probably get 2 or 3 at the same price.
Having a decent desk is something that I've wanted for a long time. Most of the computer desks for home or home office use are "functional", but not aesthetically pleasing. And while I am a fan of functionality, I also wanted something that had a bit of "character". So here's what I've ended up with: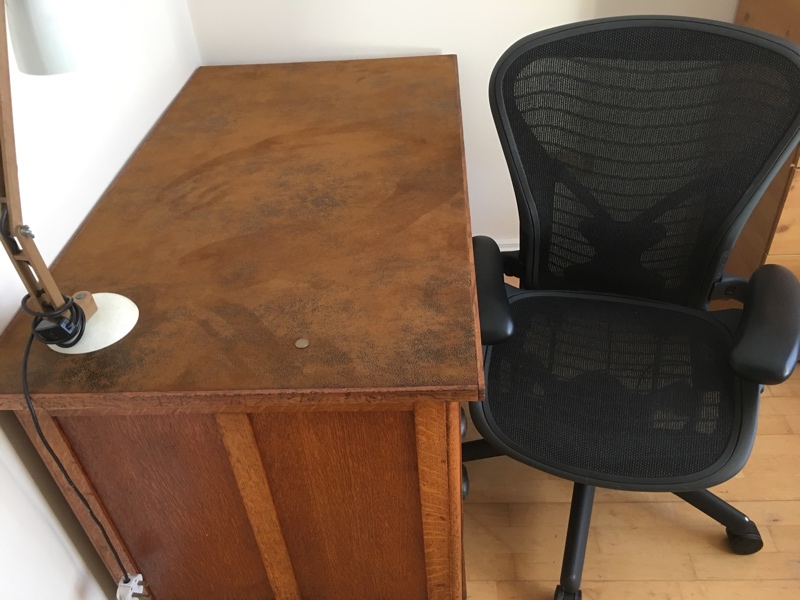 The desk is a 1930s office desk which I got from RetroRumage in Dublin. The top of the desk is covered in a sort of velvet suede, which doesn't come out very clearly in the photo. So no, it isn't stained, that just how it looks after someone (me) running their hand over the surface.
You can also see the Maclamp on the desk. The lamp is one of my eBay finds. Designed in the 1960s for Habitat by English designer Terence Conran, Maclamps are very attractive and the design has withstood the test of time. If you're going to have an office lamp, you might as well have a nice one 🙂
I'll be moving my home desktop computer, as well as my wireless printer and the scanner over to the new space sometime next week hopefully.
Eventually the home office will get shelving that should cover two of the walls. With the volume of books and other stuff that I have I'll need a LOT of shelving!
Now back to packing up my life ..