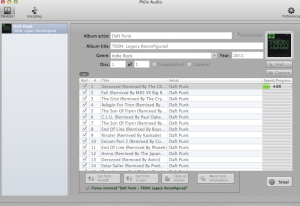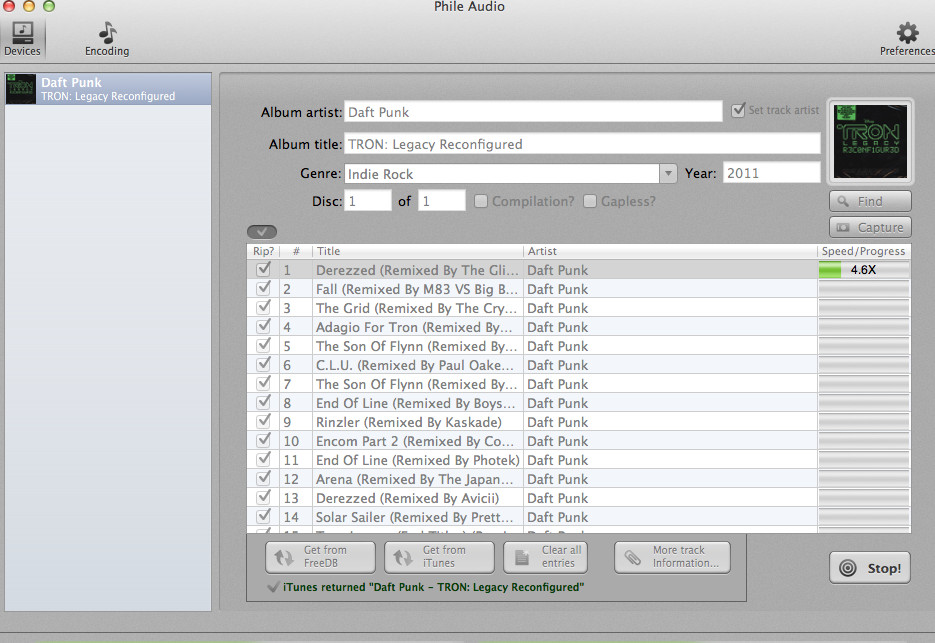 If you use a Mac you get used to using its tools. Why wouldn't you? They're easy to use and pretty intuitive.
Unfortunately my iRiver H340 can't read audio files in the standard OSX / iTunes format. It'll happily take the files in, but then you can't play the audio, which defeats the purpose of the exercise.
There are quite a few software tools, both commercial and open source, for ripping CDs to mp3 on OSX, but I wanted to use Ogg Vorbis, as they tend to take up less space without a massive loss in audio quality.
Unfortunately a lot of the open source tools for Ogg on the Mac are pretty awful and I couldn't get any of them to work sanely.
Phile Audio, however, works really well.
Here's the official blurb:
Simultaneous encoding to 7 formats:
Phile Audio will encode to all of the most popular audio file formats: MP3, MP4-AAC, Ogg Vorbis, FLAC, Apple Lossless, WAV and AIFF. You can specify one or more encoding formats before ripping, so you only have to rip once. Archive a copy of your CD collection in a lossless format, such as FLAC or Apple Lossless, and encode a smaller, compressed copy for your portable media player. Phile Audio will import iTunes-supported file formats automatically, saving you a manual step if you want to import to iTunes.
Simultaneous ripping from multiple CD/DVD/BD-ROM drives:
Phile Audio will rip from as many drives as you can hook up to your computer, simultaneously. While one disc is ripping, you can be entering the information for another one. This is a huge advantage for your CD archiving workflow, as you don't have to wait as long for discs to finish ripping to move on to the next one.
Retrieve CD information from the FreeDB online database:
Phile Audio automatically identifies and retrieves your discs information from the online FreeDB database. This huge resource is sure to find disc information for most of your CDs
Multiple options for cover art retrieval:
Phile Audio includes an online image search, pre-populated to the title of your CD to make finding cover art as easy as possible. In the unlikely event that you don't find something acceptable, you can drag and drop cover art files from a web browser or your computer directly into the application, or, import your images from a digital camera or memory card with the built-in camera device browser. There's even an interface to use your scanner to scan your cover art directly into your disc information! No other software offers this degree of integration for your cover art!
More information can be input up-front:
In addition to the extensive options for cover art, Phile Audio allows you to enter individual years per track, composers, groupings, gapless tags, compilation tags, disc numbering (if part of a multiple-disc set), comments and lyrics for supported encoding formats. You don't have to revisit your encoded files from other software to add these tags. You can do it all right before ripping, a huge time-saver!
Customizable file naming:
For those that are not importing into iTunes or to a non-taggable format, keeping file names in a usable format can be a real pain. Phile Audio allows you to customize the exact file name convention based on disc and track information to fit your needs.
Efficient encoding:
Phile Audio detects how many processors are in your computer and runs encoding jobs simultaneously on all multi-core processors. Encoding happens in the background, so your discs can rip as fast as possible without being encumbered by potentially slow encoding times. You can pause encoding if you need the extra processor power for another application. You can even close the application in the middle of encoding a batch of discs, and Phile Audio will remember where you left off. Very handy for users on-the-go!
Real-time status:
When ripping discs, Phile Audio gives you an indication of your drive's DAE (Digital Audio Extraction) or "ripping" speed. This serves as a benchmark for your drive. While encoding, the status of all of your encoding jobs are easily seen and understood.
What's really cool about it is that if one of the free music DBs can't find the album you can use iTunes to populate the track data.
Being able to rip albums to Ogg (and other formats) easily and quickly means that I'll be able to fill up my iRiver with albums I want to listen to for my next trip 🙂