Over the last couple of days Google has launched a number of new enhancements for adsense publishers.
The first change was a wider range of options for advert display.
You can now choose from a number of advert box styles: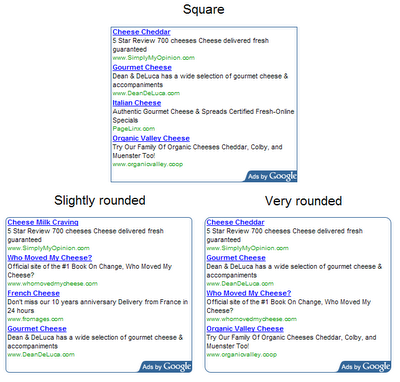 When you go to choose your adsense format you will see the new options. Full details are on the Adsense blog
The other change is much more important for European publishers.
The product referrals have finally been expanded to include both Google Apps and Google checkout.
For Irish publishers with a primarily local audience the checkout options won't be of much interest at the moment, but Google is meant to be expanding the product offering into the EU market this year.
As someone involved in the hosting industry I have my reservations about Google Apps. As I mentioned previously, Google insist on ignoring industry best practice in their email implementation and this can have a very negative impact on users of their services.
Unfortunately a lot of people seem to be blinded by Google's "wow" factor and haven't noticed the downsides yet.
For those interested in the "nitty gritty" Google Apps will payout $5 for new accounts that remain active for 4 weeks, while Google Checkout pays out $1 for a new buyer making a purchase for a value in excess of $10. More information on the features on the official blog
In related news, they've also expanded their not-for-profit advertising solution to encompass Irish charities, as Dave mentions.
Related Posts: