I recently upgraded my TV and surround sound system, so I've now got a battery of remote controls!
It's kind of annoying, as I've now got to battle with:
TV remote
DVD / Surround sound remote
Sky box
Stereo
To switch from a DVD to watching a flick on Sky involves messing about with three of them.. And that can get mighty confusing.
So what's the solution?
It seems that universal remote controls have come along way over the last couple of years and Logitech have produced a very funky solution: LOGITECH Harmony 1000 Advanced Universal Remote Control
It seems to be able to do just about everything short of making you coffee in the morning!
The device boasts a 8.9" touchscreen display, so it's not exactly small, but it's meant to be able to handle 15 devices at once.. I don't think I've even got that many, so it might be overkill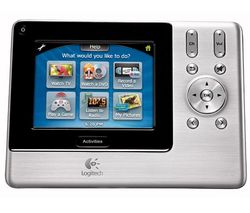 The technical specs are quite scary:
The Harmony 1000 Advanced Universal Remote symbolises a move in the right direction for audio and video equipment control.
With its 8.9" touchscreen design, the Harmony 1000 Advanced Universal Remote lets you control up to 15 external devices.
Thanks to a user friendly graphic menu, the Harmony 1000 Advanced Universal Remote gives you access to numerous configurations.
Once connected to your computer, its configuration wizard guides you through step by step.
The Harmony 1000 Advanced Universal Remote can take control of more than 5,000 brands and more than 175,000 devices.
In case of a configuration problem, its help section provides all the troubleshooting information you need.
Finally, its rechargeable lithium-ion battery guarantees maximum availability for equipment control.
The Harmony 1000 Advanced Universal Remote is the ultimate control solution for all your audio and video devices.
It would want to be, considering it costs over 300 euro!
Additional information:
Compatible with: Windows 2000, XP / Mac OS X 10.3 or later version (so it should be able to handle Leopard when it's released)
Content:
- Logitech Harmony 1000 Remote Control
- Charging base
- USB Cable
- Mains adapter
- Lithium-ion Battery (no need to spend money on batteries at least!)
- Installation CD
Related Posts: