It's a Saturday evening, so I'm pondering what to do. Should I rent a DVD, watch one I already own or try to find something worth watching on the TV?
My first port of call is the Xtra Vision website. Of course I can't remember what the web address is and neither can Google!
A search for "xtravision" or "xtra vision" takes me to a number of sites, including this one, but I have to find the actual site by going via whoisireland.
While Xtra Vision may not rely on online sales, I'm probably not the only punter in the country who can't remember offhand what DVDs are released when, so checking their site seems like an obvious starting point.
Of course the other funny thing is that they obviously haven't bothered protecting their IP online.
A quick search for them gives me adds for their competition (click to enlarge):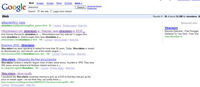 Related Posts: