A post on Mashable earlier this evening revealed the launch of a new search engine - Blekko.
I've no idea how well Blekko will do, but its method of displaying results is quite novel:


But forget the display of the results for a moment. Let's have a quick look at how you search.
In Google and most other search engines you simply shove in a keyword (or two) and hit enter.
If you're a more advanced user you might play around with various operators to refine your results or add certain keywords to the query to tune it more finely.
With Blekko this concept is pushed to the front.
So if you wanted to do a search on say "linux" but only wanted to get back results from blogs you can use what they're calling a "slashtag", so your search query would be:
linux /blogs
Which is quite an elegant way of doing it. Of course there's a lot more to it than simply choosing the type of source. You can also use the slashtag to narrow your query.
It'll even suggest relevant ones for you: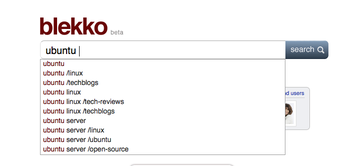 You can read more about how to use the tags on the help pages of the site.
Since I run several sites I was curious to see how long the search engine had been indexing them. A quick scan of my raw logs shows that they've been actively crawling since at least May 2009:
38.108.180.46 - - [27/May/2009:09:25:32 +0100] "GET /robots.txt HTTP/1.1" 200 - "-" "Mozilla/5.0 (compatible; ScoutJet; +http://www.scoutjet.com/)"
Which leads us to the name of their bot - ScoutJet.
Not only do they give you the UserAgent, but they also give you the IP ranges that it comes from, which is vaguely useful if it misbehaves. Though I can't imagine that it will based on its previous activity. (Unlike VoilaBot!)
So what about the search results display?
If you look at the screenshot above you'll notice that each result is accompanied by a number of links. This is where it gets really fascinating if you're doing SEO. You can get a LOT of information about both your own sites and those of your competitors. While this information is incredibly powerful I can also see some potential for abuse. Of course if all this information is available to everyone then it is a level playing field so to speak ..
I'll be playing around with Blekko more in the future, as it definitely has an interesting angle on search.
I suspect the tech blogs will be talking a lot about it in the coming days...